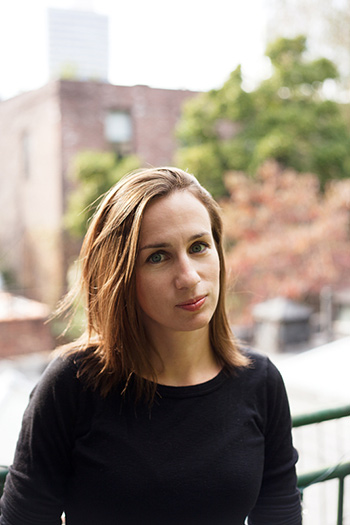 photo by Lou Rouse
Adelle Waldman's writing has appeared in The New York Times Book Review, The Wall Street Journal, Slate, The Village Voice and other publications. Waldman worked as a reporter at the New Haven Register and the Cleveland Plain Dealer. Her first novel, The Love Affairs of Nathaniel P., has been called one of 2013's best books by The New Yorker, The New Republic, Slate, The Economist, NPR, Fresh Air, The National Journal, Bookforum, The National Post, BookPage, The Guardian (UK), Cosmopolitan, Elle, Baltimore City Paper and The Irish Times. It was also named a New York Times' Editor's Choice and a Washington Post Notable Book. The novel will soon be translated into Russian, French, Spanish, Italian, Dutch and other languages. Waldman lives in Brooklyn with her husband.
Samples of her nonfiction writing can be found on the journalism page of this web site. Reviews and other information about The Love Affairs of Nathaniel P. can be found on the novel page.
Adelle has also written a new novella featuring Nathaniel P., but this time it's told from the perspective of his friend Aurit. Called New Year's, you can learn more—and buy it—here.
SELECTED INTERVIEWS
about the book:
A Q&A with John Williams of the New York Times, about writing from the male POV and Nate's misogynistic thoughts. You can find that here.
An interview with Bookforum's Morten Høi Jenson about psychology, literary technique, 19th century novels and moral reasoning. That's here.
Adelle spoke to Vogue's Megan O'Grady about serial monogamy and whether there is hope for the Nate P.s of the world. Read that here.
The Weekly Standard's Lee Smith asked her about feminism, the sexual revolution and why some readers dislike Nate so much. That's here.
At GQ, she and author Teddy Wayne spoke about writing awkward sex scenes and status consciousness. That's here.
Rachel Lubitz of The Washington Post Style section spoke to her about writing from the male perspective. Read that here.
At MSN's Page-Turner blog, Mary Pols asked her about the relationship at the center of "The Love Affairs of Nathaniel P.," and why Nate behaved as he did. That's here.
She spoke with memoirist Christa Parravani about gender and status at The Rumpus. Read that here.
about the writing process:
For Powell's bookstore, Adelle wrote a detailed series of blog posts about the years she spent writing, and trying to publish, this novel. Read them here.
Adelle spoke with Brooklyn Magazine about her writing process and not having an MFA. Read it here.
A discussion on sexism in the literary world, with writers Ayelet Waldman, Roxane Gay, Julia Fierro & Lydia Millet. Read that here.
AUDIO INTERVIEWS:
The Other People podcast with Brad Listi. Listen here.
Love, Sex and Death podcast with Dan Wilbur: Listen here.
To follow Adelle on Twitter, use the link below.